The HG Raven - 30 Strings
16 lbs, 24" deep, 47.5" tall, 14" wide G to A.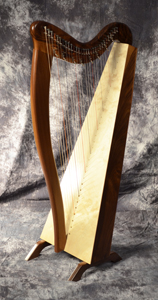 This harp with it's smooth voice and light touch is a joy to play. It's slender build and light weight makes it easily transportable but provides enough volume and richness of base, for small and intimate performances, personal playing, as well as smaller receptions and concerts. The HG Raven's design makes it the harp perfect for, both student and professional!
The HG Raven comes standard with a padded case and several choices of levers.
Audio Samples (HG Raven 30)
(Performed by Denise Grupp-Verbon)

*** Coming Soon ***

The HG Raven Celtic Folk Harp

F,C,B Rees Levers

$3200.00

Full Rees Levers

$3600.00

Full Loveland Levers

$3600.00

Full Truitt or Camac Levers

$3900.00

Padded Case

Included

Extra String Set

$170.00

USA Shipping

$250.00