The HG Firebird - 34 Strings
21 lbs, 27" deep, 50.5" tall, 16" wide C to A.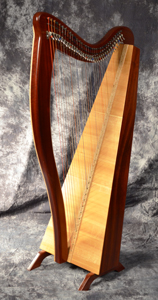 This midrange harp is designed for the artist who requires performance and portability. With the standard asymmetrical soundboard and light string tension, this harp produces a full rich tone with superb projection and range. The soundbox was specially designed with projection and sound production in mind for stage performers.

The HG Firebird comes standard with a padded case and several choices of levers.