Lewis Creek Collectors Psaltery -
The Lewis Creek Collectors Psaltery is made of exotic hardwoods and is a beautiful show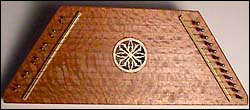 piece as well as a quality instrument. Solid oak pin blocks are used to ensure accurate tuning.

You can place a special order for specific woods!

All Lewis Creek psalteries come with our standard music sets (20 pieces of music), a pick, a tuning wrench, and tuning instructions. The standard music set has been specially compiled to be an easy introduction to successfully play with the instrument. Additional music sets are also available.
Lewis Creek Collectors Psaltery

$ 250.00